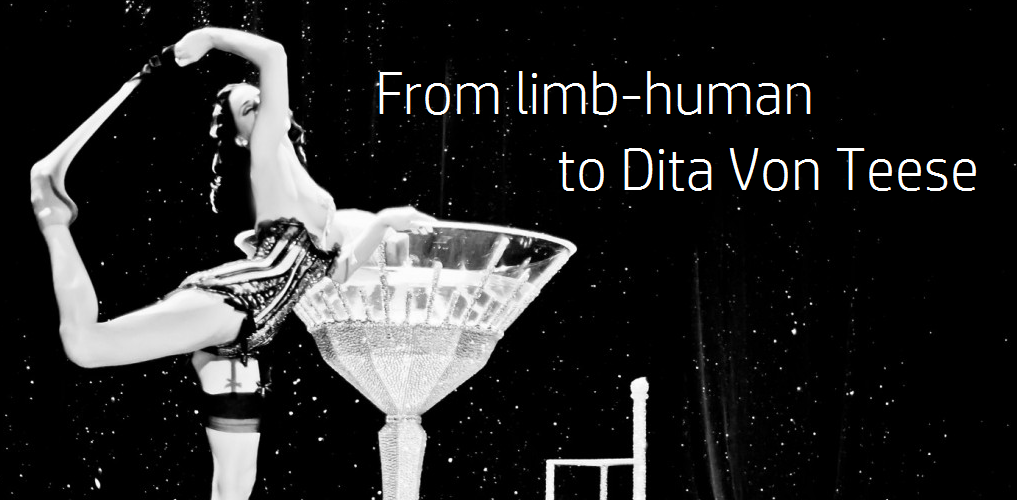 Noot: dit immersion essay schreef ik voor mijn vak 'Writing creative non-fiction' en is dus in het Engels geschreven. Veel leesplezier! 
My chin rests on the hard wooden floor. Loud music fills the dark room while green and red lights shatter enthusiastically. 'I chose this pose so you can see your butt, I love butts!' the woman in the front exclaims animated. I lie flat on a foldable chair, my legs dangling behind it and my back in an unnatural angle, pushing my upper body and face down to the floor. Once our choreography – or should I say chairo'graphy? – starts, I know exactly what to do: slide down the chair sensually, crawl over the floor and end up in an upward position, flipping my hair around. I feel weirdly comfortable in a place I thought to be extremely awkward.
The morning before I find myself lying on the floor with eight other women, I stress about what I should wear. The burlesque dance class I – completely voluntarily – chose to do has been on my mind since I decided to go for it. And it kind of stresses me out. Although I love browsing through dancer-clothes and I sometimes even have an unrealistic dream of being a ballerina, the reality is that my wardrobe only consists of Nike running tights, a neon-pink shirt and bright blue shoes in a size 10. All very matchy-matchy and cool when you go running, all not so cool when you want to feel sexy during a burlesque class. In a desperate search for some wardrobe advice, I find a 'what to wear' section on the dance studio website. 'Something comfy that allows you to move' it states, although the promotional pictures on the website show women wearing fishnet tights, satin shorts and lacy bra's. I squint my eyes as I think my options through. I go for my patterned Nike tights and a floaty black dress. 'A combination of sporty and elegant,' I think to myself contently. Quickly I change my colourful Happy Socks for a grey pair. Nothing sexy about pink socks with peace signs.
That night, I cycle up to Brunswick to do my first burlesque dancing class ever. It feels like a summer night, although the temperature and the fact I am wearing my winter coat say otherwise. But the birds are chirping and there is something in the air that only those summer nights have: a feeling of endless possibilities. As I turn right to Loyola Ave, I smirk: yolo indeed. The street is dark and extinct, with only two guys in hoodies taking down a traffic sign. 'Nothing to see here!' they laugh. Hesitantly, I put away my bike and make sure it is properly locked. I curiously look around. Two buildings that seem like old warehouses loom up in the minimal light of the street lanterns. I look at the address one more time and walk to the second building. Once I get closer I hear burlesque music blasting and a female voice shouting: 'Stretch! Reach!' I slide open the garage door and a glittery, shiny world opens up before my eyes.
I kind of expected a modern dance studio, but the place looks absolutely… burlesque. All the walls are painted in a dark-red, a blue curtain hangs from the ceiling and there are sparkling Christmas lights everywhere. The Whitney Houston classic blasts through the walls: 'I'm every woman, it's all in me!'. After I talk to the friendly receptionist and I put my name on a list, I stroll to the lounge area and take place on a soft Victorian velvet sofa. A big wall painting of a colourful peacock and a woman stares at me. For a moment I wonder about the symbolic meaning behind this painting; perhaps it stands for the possibility to evolve from a simple woman to a colourful peacock. I shake my head and smile a bit; perhaps I'm just reading too much into this. The other wall is filled with pictures of burlesque performers on one side and advertisements on the other side. I take a look at the many ads and I notice that sexuality is the main theme around here: 'erotic life drawing', 'nude photography' and someone selling a pair of patent leather stripper heels. Damn it, not my size. I raise my eyebrows when I notice a black and white ad for an 'experimental project' that involves filming your face while orgasming. It's interesting how sexuality plays a big role in the burlesque scene, even outside the dance class.
As I wait for the class to start I get a little nervous. A woman wearing leggings with little cats on them joins me on the sofa and I cannot resist the urge to ask if it is her first time too. She smiles, shakes her head and says that she has been coming here for a while. 'Have you done any other dance lessons?' she returns the question. Embarrassed I admit I have never really danced before, except for some Zumba dance lessons in high school. I slowly start to regret this whole evening. What if I am the only uncoordinated person without any dancing experience? I remember the awkward Zumba lessons all too well… the dance instructor was a Shakira look-a-like with hips that didn't lie and loose harem pants that made her look effortlessly cool. I, on the other hand, was wearing my fitted Nike tights again and never felt more out of sync with the fast rhythm of the Latin music.
Burlesque attracted me because I love the elegance of the dancers, the charming sexiness, the women being in control. As I have worked in a specialist lingerie store for almost five years, I especially love the beautiful lacy lingerie the girls wear. Although I probably wear more expensive and sexy lingerie than most people in my surroundings, I do not feel sexy that often. While other people get down on the dance floor easily, my long arms move awkwardly around me and I curse my family that there is absolutely no exotic gene in my body. It is not for nothing my friends call me 'limb-human' sometimes; most of my body exists of legs and arms. The linear physique of my body is not exactly Dita von Teese-material.

Luckily, the other women that attend the class don't seem to have huge breasts and a tiny wasp waist either, I notice when I enter the dance studio. They seem kind of… normal. I am actually the only one who tried to dress elegantly; the other girls are just wearing simple sporty tights and tops. The women seem to know each other and compliment one another on their funky hair colours: blue, orange and bright pink. I notice that six out of eight women have bright coloured hair. Some have colourful tattoos that go with it and one girl shaved half her head. I would say they are rather an alternative bunch, although they fit in completely in this burlesque setting. One dark-haired woman looks at my light blonde hair and says: 'Oooh I would dye my hair in every colour if that was my natural hair colour!' I laughingly admit that the Scandinavian blonde is not my natural hair colour either, and I immediately feel at home.

We start the class with a warming-up, which consists of some funky dance moves and acting silly. Our teacher, a young woman in a low-cut black crop top and bright blue bra popping out underneath, cheers us on while we shake our bums. It makes me think of the little dance competitions I use to have with my mum and sister once a movie had ended. When the credits started rolling and the soundtrack would blast out of the speakers, we would dance through the living room as weird as possible. The one with the silliest dance moves won, which was – of course – always me. When you have unnaturally long limbs, you should always know how to use them to your advantage.
After we've warmed up, the teacher tells us to get our foldable chair and some kneepads. 'If you don't have your own, please get some from the box in the front. You are gonna need them,' she says in a serious tone. She has selected a song which reminds me of Heads will roll, but isn't quite the same. It consists of some heavy rock tunes and a female voice panting through the chorus. After the first moves I understand why the kneepads are so essential: letting yourself drop onto your knees definitely hurts. I already know I am going to have some bruises tomorrow; burlesque is not for wimps. 'Move like a zombie, a sexy zombie!' the instructor shouts. I do not completely understand how a zombie can be sexy, but I try anyway. Unsure if I'm successful at any dance move, I get through the choreography. After a few repetitions however, I start to notice improvement and I am impressed with my own dance skills. Go me!
At the end of the class the instructor turns off the main lights and puts on the red and green disco lights that immediately start glistening through the room. She tells us there is now the possibility to film yourself if you want. Of course, I am not letting this opportunity slip through my fingers and set up the camera on my phone. We do the choreography one more time with all the energy and sexiness we have left in our bodies and we end the class with a cooling down.
'See you next time?' the cat-legging woman asks me before we leave.
'Maybe,' I say, with a smile.
I have learnt that burlesque, or feeling sexy in general, is not only about looking the part. Although it definitely helps to dress up in something that makes you feel beautiful, it is actually all about the confidence and fun you have. Perhaps I was afraid for a more serious and presumptuous atmosphere, but I am surprised by how much fun the burlesque class actually was. Nobody took themselves too seriously, but were not afraid to let their sexuality shine through at the same time. It is probably the best place to get confident in your own skin and work out at the same time. Win-win!
When I get home I sit down and take a look at the video I took during the last dance. I am actually impressed by myself; I don't look awkward at all! Limb-human: no more. Hello Dita von Teese! It gets me excited for a new challenge. Learning to twirl nipple tassels, perhaps? I smile at the thought of it, since I will probably look like an idiot doing it. But then I remember: what does it even matter? It would be absolutely hilarious and that is what it is all about, isn't it?
Related posts: